Aladdin - En espanol - Edición especial 2 DVD -
En español (spanish) - Widescreen - El mejor precio - Nueva - Original - Oct. 4, 2004
---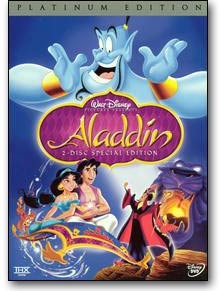 Precio: Ver el mejor precio arriba del botón de compra
---
---
- Elenco de actores (Voces):
- Brad Kane - Aladdin Singing
- Scott Weinger - Aladdin
- Robin Williams - Genie
- Lea Salonga - Singing Jasmine
- Linda Larkin - Jasmine
- John Freeman - Jafarg
- Director: Ron Clements
---
- Codificación: Región 1 - NTSC
- Formato: Color, Dolby 5.1
- Censura: G
- Duración: 90 min.
- Lenguajes: Español, Inglés, Frances
- Subtitulos:
---
Sinopsis (Español / Espanol)
Basada en el famoso cuento "Aladino y la lámpara maravillosa", la trama de esta película se sitúa en el exótico paisaje del mítico reino árabe de Agrabah. Aladdin es un ingenioso joven que vive en una extrema pobreza, soñando con evadirse en su existencia callejera y casarse con la bella hija del sultán, la princesa Yasmin. El destino interviene cuando el astuto visir del Sultán, Yafar, recluta a Aladdin para que le ayude a recuperar la lámpara maravillosa de las profundidades de la Cueva de las Maravillas.
Aladdin consigue alcanzar la lámpara. en la que vive un bromista genio que concede tres deseos a quien le libere. Aladdin se gana la enemistad del visir pero se hace amigo del genio, y con su ayuda se hace pasar por un rico y apuesto príncipe. Aladdin no consigue impresionar a la princesa por sus riquezas, pero sí por su forma de ser. Con la ayuda de sus amigos Abú (su mono amaestrado), el Genio, y una alfombra voladora, Aladdin intentará salvar el reino del complot del malvado Yafar y lograr sus sueños.
---
Synopsis (English, Inglés)
Robin Williams's dizzying and hilarious voicing of the Genie is the main attraction of Aladdin, the third in the series of modern Disney animated movies that began with 1989's The Little Mermaid and heralded a new age for the genre. After a sultan (Douglas Seale) gives his daughter, Jasmine (Linda Larkin), three days to find a husband, she escapes the palace and encounters the street-savvy urchin Aladdin (Scott Weinger), who charms his way into her heart.
While the sultan's Vizier, Jafar (Jonathan Freeman), weaves a spell so that he may marry Jasmine and become sultan himself, Aladdin discovers the Genie's lamp in a cave, rubs it, and sets the mystical entity free, leading the Genie to pledge his undying loyalty to the dazzled youth. Aladdin begins his quest to defeat Jafar and win the hand of the princess, with the Genie's help. Monsters, Disney's trademark talking animals, and a flying carpet all figure into the ensuing adventures, but Williams' Genie, who can change into anything or anybody, steals the show as he launches into one crazed monologue after another, impersonating figures from Ed Sullivan to Elvis Presley.
Source: Allmovie.com
---
---
Nota:
- El envío estándar de un DVD dentro del territorio continental de los EE UU cuesta $1.99 por orden
+ 0.99 por cada item.
- También existe la posibilidad de envíos rápidos.
- El envío estándar internacional de un DVD cuesta $6.98
- Para convertir a su moneda (aproximadamente) utilice el conversor en este enlace:
---