Cars - En espanol - DVD - (Coches)
En español (spanish) - Widescreen - El Mejor precio del mercado - Nueva - Original - Nov. 7, 2006
---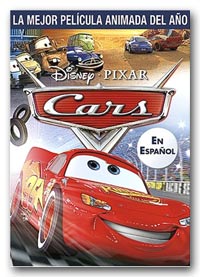 Precio: : Ver el mejor precio arriba del botón de compra
Este DVD tiene la opción de lenguaje español tanto hablado como subtitulos, si lo prefiere
---
---
- Elenco de actores (Voces):
- Owen Wilson - Lightning McQueen
- Paul Newman - Doc Hudson
- Bonnie Hunt - Sally Carrera
- Larry the Cable Guy - Mater
- Cheech Marin - Ramone
- Director: Joe Ranft, John Lassetei
---
- Codificación: Region 1 - NTSC
- Formato: Color, Widescreen, Dolby 5.1
- Censura: G (Apta para todo público)
- Duración: 116 min.
- Lenguajes: Español, Inglés
- Subtitulos: Español, Inglés
---
Sinopsis (Español / Espanol)
Además de la película incluye también:
Mater y la luz fantasma: el travieso mater obtiene lo que merece en un novedoso y exclusivo corto animado

Espectáculo de un hombre: Corto animado divertidísimo

Inspiración para Cars: El realizador John Lasseter descubre la emoción en la Ruta 66 (en Inglés con subtítulos en Español)

Epílogo
El aspirante a campeón de carreras Lightening McQueen está sobre la vía rápida al éxito, la fama y todo que él alguna vez había soñado... hasta que toma un desvío inesperado en la polvorienta y solitaria Ruta 66. Su actitud arrogante se desvanece cuando llega a una pequeña comunidad olvidada que le enseña las cosas importantes de la vida que había olvidado.
---
Synopsis (English, Inglés)
A pedal-to-the-metal race car determined to prove his worth on the tracks discovers that life isn't always about crossing the finish line first in Toy Story director John Lasseter's mechanically minded tale of friendship and loyalty. Lightning McQueen (voice of Owen Wilson) may be just a rookie, but he's convinced that he can realize his dream of zooming by the checkered flag if he can only make it to California in time to compete in the upcoming Piston Cup Championship. When Lightning takes a detour into the slow-moving, Route 66 town of Radiator Springs, however, it begins to appear as if his shot at the big time has effectively stalled out. Of course, Lightning's exciting cross-country trek wasn't all for naught, and after befriending such quirky Radiator Springs residents as Sally the Porsche (voice of Bonnie Hunt), Doc Hudson (voice of Paul Newman), and Mater the Tow Truck (voice of Larry the Cable Guy), the eager young racer learns that sometimes life is more about the voyage than the outcome of the race.
Jason Buchanan.
Source: Allmovie.com
---
---
Nota:
- El envío estándar de un DVD dentro del territorio continental de los EE UU cuesta $1.99 por orden
+ 0.99 por cada item.
- También existe la posibilidad de envíos rápidos.
- El envío estándar internacional de un DVD cuesta $6.98
- Para convertir a su moneda (aproximadamente) utilice el conversor en este enlace: