La dama y el vagabundo / Lady and the tramp - En espanol - 2 DVD -
En español (spanish) - Edición 50 Aniversario - Nueva - Original - Feb. 28, 2006
---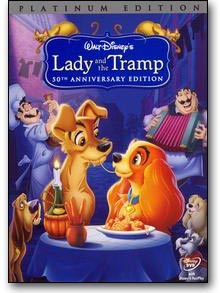 Precio: Ver el mejor precio arriba del botón de compra
---
---
- Elenco de actores (Voces):
- Peggy Lee - Peg
- Barbara Luddy - Lady
- Larry Roberts - Tramp
- Bill Thompson - Bulln
- Director: Clyde Geronimi
---
- Codificación: Región 1 - NTSC
- Formato: Color, Dolby 5.1
- Censura: G
- Duración: 76 min.
- Lenguajes: Español, Inglés, Frances
- Subtitulos:
---
Sinopsis (Español / Espanol)
Reina es una preciosa perrita de pura raza que vive feliz en su hogar. Isabel y Jaime la mimaban mucho y ella correspondía feliz a sus cuidados. Sin embargo, el día que sus dueños decidieron hacer un viaje, todo se complica para Reina; la llegada de la tía Clara y sus gatos no le iban a traer nada bueno... excepto conocer a Golfo, un perro vagando muy simpático.
---
Synopsis (English, Inglés)
Lady and the Tramp represented two "firsts" for Disney: It was the studio's first Cinemascope animated feature, and it was their first full-length cartoon based on an original story rather than an established "classic". Lady is the pampered female dog belonging to Jim Dear and Darling. When her human masters bring a baby into the house, Lady feels she's being eased out; and when Darling's insufferable Aunt Sarah introduces her nasty twin Siamese cats into the fold, Lady is certain that she's no longer welcome.
The cats wreak all manner of havoc, for which Lady is blamed. After the poor dog is fitted with a muzzle, Lady escapes from the house, only to run across the path of the Tramp, a raffish male dog from the "wrong" side of town. The Tramp helps Lady remove her muzzle, then takes her out on a night on the town, culminating in a romantic spaghetti dinner, courtesy of a pair of dog-loving Italian waiters. After their idyllic evening together, Lady decides that it's her duty to protect Darling's baby from those duplicitous Siamese felines.
On her way home, Lady is captured and thrown in the dog pound. Here she learns from a loose-living mutt named Peg that The Tramp is a canine rake. Disillusioned, Lady is more than happy to be returned to her humans, even though it means that she'll be chained up at the insistence of Aunt Sarah. Tramp comes into Lady's yard to apologize, but she wants no part of him. Suddenly, a huge, vicious rat breaks into the house, threatening the baby. Lady breaks loose, and together with Tramp, runs into the house to protect the infant. When the dust settles, it appears to Aunt Sarah that Tramp has tried to attack the child.
That's when Lady's faithful friends Jock the bloodhound and Trusty the scottie swing into action, rescuing Tramp from the dogcatcher. Once Jim Dear and Darling are convinced that Tramp is a hero, he is invited to stay...and come next Christmas, there's a whole flock of little Ladies and Tramps gathered around the family. Beyond the usual excellent animation and visual effects, the principal selling card of Lady and the Tramp is its music. Many of the songs were performed and co-written by Peggy Lee, who years after the film's 1955 theatrical issue, successfully sued Disney for her fair share of residuals from the videocassette release..
Hal Erickson.
Source: Allmovie.com
---
---
Nota:
- El envío estándar de un DVD dentro del territorio continental de los EE UU cuesta $1.99 por orden
+ 0.99 por cada item.
- También existe la posibilidad de envíos rápidos.
- El envío estándar internacional de un DVD cuesta $6.98
- Para convertir a su moneda (aproximadamente) utilice el conversor en este enlace:
---