La edad del hielo: El deshielo / Ice Age: TheMeltdown - En espanol - DVD -
En español (spanish) - Widescreen ó Fullscreen- El Mejor precio del mercado - Nueva - Original - Nov. 21, 2006
---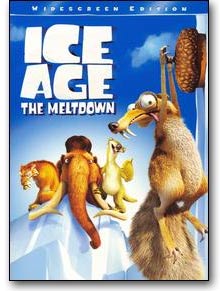 Precio: Vea el mejor precio arriba del boton de compra
Widescreen aquí Fullscreen aquí
Este DVD tiene la opción de lenguaje español tanto hablado como subtitulos, si lo prefiere
---
---
- Elenco de actores (Voces):
- Ray Romano - Manny
- John Leguizamo - Sid
- Denis Leary - Diego
- Seann William Scott - Crash
- Josh Peck - Eddie
- Director: Carlos Saldanha
---
- Codificación: Region 1 - NTSC
- Formato: Color, Widescreen o Fullscreen, Dolby 5.1
- Censura: PG
- Duración: 90 min.
- Lenguajes: Español, Inglés, Frances (Dolby 2.0 en español)
- Subtitulos: Español, Frances
---
Sinopsis (Español / Espanol)
Nuestro trío sigue junto y disfrutando de las ventajas de su mundo fundente. Manny quizás ya esté preparado para fundar una familia, pero nadie ha visto otro mamut desde hace un montón de tiempo; de hecho, Manny piensa que probablemente sea el último de su especie. Así es hasta que de forma milagrosa se encuentra con Ellie, el único mamut de sexo femenino que queda sobre la faz de la Tierra. Sólo hay un par de pegas: No se caen nada bien - y Ellie por alguna extraña razón ¡piensa que es una zarigüeya!.
---
Synopsis (English, Inglés)
Manny (Ray Romano), Sid (John Leguizamo), and Diego (Denis Leary) may have made it through the big freeze, but when the ice begins to melt, the heroic trio must warn the other inhabitants of their peaceful valley of the coming flood in directors Chris Wedge and Carlos Saldanha's sequel to the computer-animated 2002 hit Ice Age.
As the ice age winds to an end, the animals of the Earth have taken warmly to the melting paradise that surrounds them. Despite the false comfort of a lush valley teeming with vegetation, however, great danger looms just over the horizon. When Manny, Sid, and Diego realize that the miles of liquefying ice overlooking their valley will soon turn from a gentle trickle to a violent force of nature capable of destroying anything and everything unfortunate enough to be in its path, they quickly set out to spread the word and get their endangered friends out of harm's way.
Jason Buchanan,.
Source: Allmovie.com
---
---
Nota:
- El envío estándar de un DVD dentro del territorio continental de los EE UU cuesta $1.99 por orden
+ 0.99 por cada item.
- También existe la posibilidad de envíos rápidos.
- El envío estándar internacional de un DVD cuesta $6.98
- Para convertir a su moneda (aproximadamente) utilice el conversor en este enlace: