Vecinos Invasores / Over the Hedge - En espanol - DVD -
En español (spanish) - Widescreen ó Fullscreen- El Mejor precio del mercado - Nueva - Original - Oct. 17, 2006
---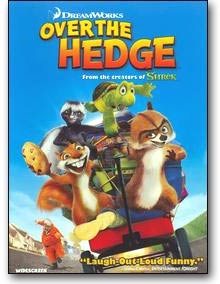 Precio: Ver el mejor precio arriba del botón de compra
Widescreen aquí Fullscreen aquí
Este DVD tiene la opción de lenguaje español tanto hablado como subtitulos, si lo prefiere
---
---
- Elenco de actores (Voces):
- Bruce Willis - RJ
- Garry Shandling - Verne
- Steve Carell - Hammy
- Wanda Sykes - Stella
- William Shatner - Ozzie
- Director: Ron Clements, John Muskei
---
- Codificación: Region 1 - NTSC
- Formato: Color, Widescreen o Fullscreen, Dolby 5.1
- Censura: PG
- Duración: 83 min.
- Lenguajes: Español, Inglés, Frances (Dolby 2.0 en español)
- Subtitulos: Español, Inglés, Frances
---
Sinopsis (Español / Espanol)
Cuando dos grandes amigos, un mapache emprendedor y parlanchín, una tortuga muy práctica y el resto de habitantes del bosque despiertan de su periodo de hibernación, descubren que su hábitat está a punto de convertirse en un bloque de viviendas. Los humanos han llegado, con todo lo que ello conlleva, y más allá de un gran seto se extiende un mundo por descubrir lleno de máquinas, comida basura y todo tipo de cosas atractivas. Nuestros amigos no tienen otro remedio que aprender a convivir con ello y usar lo que les pueda interesar.
---
Synopsis (English, Inglés)
A group of feisty forest critters awaken following the winter freeze to discover that not only has a new neighborhood cropped up during the cold months, but living in close proximity to humans may have its benefits in this computer-animated comedy-adventure for all ages featuring the voices of Bruce Willis, Garry Shandling, Steve Carell, Wanda Sykes, Avril Lavigne, Eugene Levy, and William Shatner.
Despite Verne the Turtle's (Garry Shandling) initial hesitance to breach the formidable foliage that has appeared on his doorstep since last fall, the arrival of fearless raccoon RJ (Willis) and revelation that their new human neighbors throw out enough food in one day to feed a whole forest lead the gang to consider taking the plunge and exploring the snack-filled suburbs. As Verne and RJ learn to work together in taking on their strange new surroundings, Stella the Skunk (Sykes), Hammy the Squirrel (Carrel), Heather the Opossum (Lavigne), and Heather's father, Ozzie (Shatner), join in on the fun by scavenging for Girl Scout cookies and attempting to scuttle past the pesky new suburbanites undetected.
Source: Allmovie.com
---
---
Nota:
- El envío estándar de un DVD dentro del territorio continental de los EE UU cuesta $1.99 por orden
+ 0.99 por cada item.
- También existe la posibilidad de envíos rápidos.
- El envío estándar internacional de un DVD cuesta $6.98
- Para convertir a su moneda (aproximadamente) utilice el conversor en este enlace:
---