La Sirenita / Little Mermaid - En espanol - 2DVD - (Edicion especial doble)
En español (spanish) - Widescreen - El Mejor precio del mercado - Nueva - Original - Nov. 7, 2006
---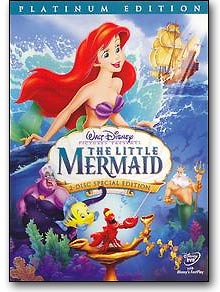 Precio: Ver el mejor precio arriba del botón de compra
---
---
- Elenco de actores (Voces):
- Jodi Benson - Ariel
- Pat Carroll - Ursula
- Sam Wright - Sebastian [
- Kenneth Mars - Triton
- Buddy Hackett - Scuttle
- Director: Ron Clements, John Muskei
---
- Codificación: Region 1 - NTSC
- Formato: Color, Widescreen, Dolby 5.1
- Censura: G (Apta para todo público)
- Duración: 83 min.
- Lenguajes: Español, Inglés, Frances (Dolby 2.0 en español)
- Subtitulos: Inglés
---
Sinopsis (Español / Espanol)
Ariel, hija del rey Tritón, es la princesa de las sirenas. Está a punto de celebrarse su fiesta de cumpleaños, y su mayor ilusión sería la de poder visitar a los humanos, puesto que nunca los ha visto. Ayudada por la bruja Cassandra, Lila conseguirá subir a la superficie donde salvará de morir ahogada a un hermoso príncipe, Eric, cuyo barco acaba de naufragar y del que se enamorará perdidamente.
---
Synopsis (English, Inglés)
Disney's The Little Mermaid was the first in a series of blockbusters that restored the venerable firm's reputation as the world's premiere animated-feature factory. The title character is a precocious teenager named Ariel, the daughter of Triton, king of the Sea. Against her dad's wishes, Ariel journeys beyond her own world to the surface, where she falls in love with Prince Eric, a handsome human. Foolishly, the little mermaid enters into an agreement with evil sea witch Ursula in order to become human herself.
The wistfully melancholy ending of the original Hans Christian Andersen story is dispensed with in favor of a joyously happy ending-but not before a spectacular climactic confrontation between Ursula and Triton. The obligatory Disney comic relief is handled by such freshly minted characters as Sebastian the Crab, who, courtesy of voiceover artist Samuel E. Wright, sings the film's Oscar-winning "Under the Sea." Other voices are provided by Broadway star Jodi Benson (as Ariel) and such Hollywood reliables as Buddy Hackett, Pat Carroll, Kenneth Mars, and Rene Auberjonois. The enormous box-office take of The Little Mermaid made possible such future Disney cartoon ventures as Beauty and the Beast, Aladdin, Pocahontas, and The Hunchback of Notre Dame.
Source: Allmovie.com
---
---
Nota:
- El envío estándar de un DVD dentro del territorio continental de los EE UU cuesta $1.99 por orden
+ 0.99 por cada item.
- También existe la posibilidad de envíos rápidos.
- El envío estándar internacional de un DVD cuesta $6.98
- Para convertir a su moneda (aproximadamente) utilice el conversor en este enlace:
---